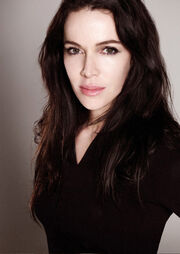 Rae Morris has been described as one of the world's most creative artists, but her work is not hanging in galleries - it is in leading fashion magazines and on the faces of international models, actors and celebrities.
In Express Makeup, Rae shares with you fashion industry secrets to create model looks in real world time with hints and tips that you can use everyday. Complete with colour charts, step by step instructions, and all the "do's" and "don't's" that make all the difference, Express Makeup is the first step in creating your perfect look.
Rae is a four time winner of the highly prestigious Australian Makeup Artist of the Year award, the Makeup Director of Australian Fashion Week, and regularly gives sell-out seminars both in Australia and internationally. Express Makeup follows her acclaimed, bestselling first book, Makeup: The Ultimate Guide.
With Miranda
Her Work With Miranda
References
Ad blocker interference detected!
Wikia is a free-to-use site that makes money from advertising. We have a modified experience for viewers using ad blockers

Wikia is not accessible if you've made further modifications. Remove the custom ad blocker rule(s) and the page will load as expected.