About Roy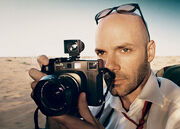 Norman Jean Roy was born in canada and grew up on montreal's south shore. As a student of architecture and graphic design, it wasn't until viewing an essay of famed photographer richard avedon in american photo that roy decided to dedicate his life and career to photography.
His Work With Miranda
Editorials
Campaigns
References
Ad blocker interference detected!
Wikia is a free-to-use site that makes money from advertising. We have a modified experience for viewers using ad blockers

Wikia is not accessible if you've made further modifications. Remove the custom ad blocker rule(s) and the page will load as expected.