About Posnick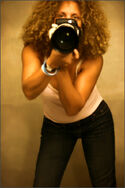 Linda is a specialized photographer in Production Stills,Behind the Scenes, Editorial, Fashion,Portraits,and Music Photography. Assiting Herb Ritts, one of world's most influecnial photographers and working with icons like Madonna, David Bowie, Slash, Janet Jackson. Not to mention, the publication of her photographs in High Fashion magazines including, Vogue, Harper's Bazaar, ELLE... to say the least. Linda first shot Miranda backstage Victoria's Secret Fashion 2007 and during the filming of Victoria's Secret 2009 Holiday Season commercial, directed by Michael Bay.
Her Work With Miranda
Special Thanks
Linda has been very supportive and patient. Posnick provided us with the information and dates of her work with Miranda (which for us fans, we know how difficult it is to find any information on any session from, Kerr's 8 years contract with VS).
References
Ad blocker interference detected!
Wikia is a free-to-use site that makes money from advertising. We have a modified experience for viewers using ad blockers

Wikia is not accessible if you've made further modifications. Remove the custom ad blocker rule(s) and the page will load as expected.