VICTORIA'S SECRET Instant Bronzing Shimmer Powder, $24.
"A light dusting adds a sun-kissed glow to arms, legs, décolletage, and shoulders."
TOM FORD Santal Blush Eau de Parfum, $205.
"My first fragrance was a mix of rose, sandalwood, and gardenia essential oils. I've since upgraded to this more sophisticated version."
VICTORIA'S SECRET Beach Hair Wave Spray, $12.
"Stylists use this salt spray on every swim shoot to create the iconic bombshell hair."
VICTORIA'S SECRET Instant Bronzing Tinted Shimmer Lotion, $15.
"This cream blends hydrating ingredients like shea butter with a touch of illuminizer."
MAST BROTHERS Dark Chocolate Bars, $12 each.
"My diet motto: 80 percent healthy, 20 percent indulgent. Dark chocolate is my guilty pleasure."
HELENA RUBINSTEIN Surrealist EverFresh Mascara in Black, $57.
"A Japanese makeup artist turned me on to this ultra-lengthening formula."
RMS BEAUTY "Un" Cover-Up in #22, $36.
"I'm a master at the art of concealing. This coconut-oil-enhanced concoction by makeup artist Rose-Marie Swift works wonders."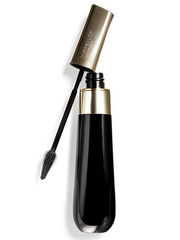 KORA ORGANICS Vitamin Enhanced Lip Balm, $26.
"It's tough to choose a favorite from my line, but this is definitely one of them. It's packed with vitamins C and E to leave my lips baby-soft."
KORA ORGANICS Energising Citrus Mist, $42.
"I spritz this bergamot-infused spray on my skin over and under makeup. It hydrates, refreshes, and lifts my mood."
ELIZABETH W Sleep Mask, $22.
"My three travel essentials: a cozy cashmere wrap, Kora Organics Balancing Rose Mist, and a luxurious silk eye mask."
GREENS PLUS Organic Chia Seeds, $20.
"I sprinkle these in my morning smoothie for an energy boost."
CHANEL Rouge Coco Shine Hydrating Sheer Lipshine in Rebelle, $34.
"This is the perfect sheer red shade."
Ad blocker interference detected!
Wikia is a free-to-use site that makes money from advertising. We have a modified experience for viewers using ad blockers

Wikia is not accessible if you've made further modifications. Remove the custom ad blocker rule(s) and the page will load as expected.